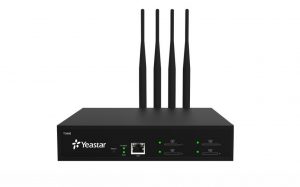 Yeastar NeoGate TG400 is a compact 4 channels VoIP GSM gateway that connects GSM network with VoIP. It is the ideal product for small and medium sized companies with heavy demands of calls to mobile networks. The cost-saving solution makes connection cheaper and efficient.
Benefits
1) Cost Savings – Save phone bills tremendously with mobile-to-mobile calls and LCR.
2) Back up – Work as a cost-effective backup when the landline network goes down.
3) Easy to install – Everything can be easily set up in the Web based management interface.
4) Easy to integrate – High compatibility with major IP PBX and softswitch brands.
Specifications
Number of GSM channels (Max): 4
Network type: 850/900/1800/1900MHz
Protocol: SIP (RFC3261), IAX2
Transport Protocol: UDP, TCP, TLS, SRTP
DTMF: RFC2833, SIP INFO, In-band
Codec: G.711 a/u-law, G.722, G.726, G.729a, GSM, ADPCM, Speex
Echo Cancellation: ITU-T G.168 LEC
LAN: 1 (10/100Mbps)
Network: Static IP, DHCP Client, Firewall, VLAN, DDNS, QoS, OpenVPN
NAT Traversal: Static NAT, STUN
Size: 213x160x44mm
Power Supply: AC 100-240V 50/60Hz 0.5A MAX
Operation Range: 0° to 50°C, 32° to 122° F
Storage Range: -20° to 65°C, 4° to 149° F
Humidity: 10-90% non-condensing
Features
SIP Server and SIP Trunk supported
SIP Peer Mode supported
Calling Type: VoIP to GSM, GSM to VoIP
GSM Ports Group Manage, VoIP Trunk Group
Incoming /Outgoing Routing rules
SMS Sending and Receiving
Send Bulk SMS
Gain Adjustment
USSD
PIN Modify
Carrier Selection: Auto/Manual
Balance Alarm
Caller ID/CLIR
Black List
Hotline
Call Duration Limitation
Call Transfer
Call Back
Call Status Display
Call Detail Record (CDR)
Call Progress Tone Generation
Call Duration Limitation for SIM Card/Single Call
LCR (Least Cost Routing)
Top voice quality (EFR super sound)
SIP Response Code Switch
Open API for SMS and USSD
Real Open API Protocol (Based on Asterisk)
IP Blacklist
Network Attack Alert
System Logs
Web based configuration