Cisco IP Phones are full-featured VoIP (Voice over Internet Protocol) phones that provide voice communication over an IP network. It provides traditional features, such as call forwarding, redialing, speed dialing, transferring calls, conference calling and accessing voice mail.Cisco SPA Series phones work seamlessly with Asterisk IP PBX SYSTEM.
Cisco SPA500 Series IP Phones are a portfolio of IP phones, with comprehensive features, that support the Cisco Unified Communications 500 Series for Small Business, and third-party SIP applications servers. Cisco SPA500 Series Cisco IP Phones provide the reliability, quality, features and price that any small business customer requires.
These affordably priced, reliable, and stylish IP phones provide an intuitive, rich user experience with wideband audio. Cisco IP Phone connect employees and offices, and include application support on the Cisco IP phone to enhance productivity, and encryption for enhanced security. The Cisco SPA500 Series also delivers a versatile array of features with investment protection that can help your small business succeed.
Integrated communications makes it easy for employees to make voice calls and access corporate data, such as company directories, quickly and easily directly from their phone, no matter where they happen to be working.Moreover it can reduce the overall infrastructure investment.
Intuitive, easy-to-use phone features:

Take advantage of small business phone system features, including speakerphone, redial, call transfer, conferencing, paging, intercom, volume control, message-waiting, and voicemail indicator lights, mute key, headset use, and call history directories.
Comprehensive interoperability and SIP-based feature set:

These phones provide comprehensive interoperability with equipment from SIP-based voice over IP (VoIP) leaders.
Cisco SPA500 Series IP Phones offer a range of features including:
Full-featured business-class IP phone supporting Power over Ethernet (PoE)

Monochrome or color* backlit display for ease of use, aesthetics, and onscreen applications

Connects directly to a hosted IP telephony service or an IP private branch exchange (PBX)

Wideband audio for unsurpassed voice clarity and enhanced speaker quality

Easy installation and highly secure remote provisioning, as well as menu-based and web-based configuration

Supports both Session Initiation Protocol (SIP) for open source and hosted telephony solutions and Smart Phone Control Protocol (SPCP) for Cisco Unified Communications 500 Series for Small Business

Support for Bluetooth and WiFi

Play back and view personal MP3 files and photos through on-phone application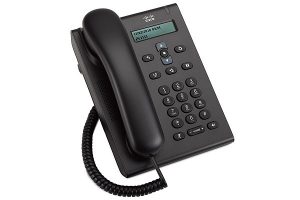 Cisco IP Phone
Replace your existing analog and digital phone deployments with affordable, basic VoIP communication endpoints using the Cisco Unified SIP Phone 3905.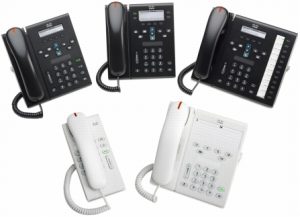 Get affordable, reliable voice and video communications with a user- and eco-friendly endpoint. The Cisco Unified IP Phone 6900 Series is designed to improve productivity, foster collaboration, and reduce operating expenses with simple, full-featured, and cost-effective communications that deliver a superior user experience.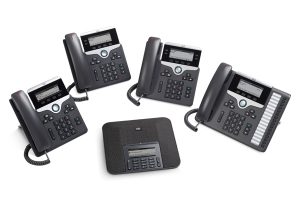 Enjoy reliable, full-featured, secure VoIP. Deploy the IP Phone 7800 Series whether your platform is on-premises, cloud with Cisco Spark or from third-party Cisco approved Unified Communications as a Service (UCaaS) provider offers. With these cost-effective IP phones, increase your business call efficiency and productivity while reducing IT operating costs.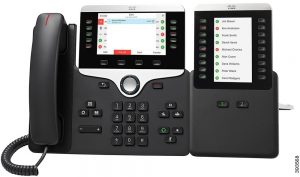 The Cisco IP Phone 8800 Series is a great fit for businesses of all sizes seeking secure, high-quality, full-featured VoIP. Select models provide affordable entry to HD video and support for highly-active, in-campus mobile workers. This advanced series provides flexible deployment options: on premises, cloud and Cisco pre-approved third-party UCaaS providers.