Panasonic KX-NS300:
The Panasonic KX-NS300 Smart IP PBX is a cost effective legacy and IP communication system for small and medium sized companies that can be flexibly configured and expanded according to the your needs.
The KX-NS300 has advanced features and starts from 6 analogue trunks and 18 extensions, up to 192 extensions with an Expansion Unit. KX-NS300 is also a unified communication system which has rich IP features such as mobile linking, integrated voice mail and e-mail, instant messaging (chat), and presence information.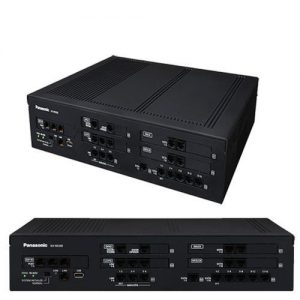 It can also use built-in applications such as a call centre solution, mobile solution, and voice mail system to provide more efficient work and increased customer satisfaction.
Saving Communication Costs
The adequate IP capacity of the KX-NS300 enables you to combine both IP and legacy trunks according to your needs, to construct systems that are flexible and cost effective.
Saving Network Costs
By connecting the KX-NS300 units in different offices with an IP network, you can construct a network that integrates both voice and data. This enables extension calls between offices over the IP network, and reduces costs.
Saving on Initial Investment
The KX-NS300 can utilize an IP network to use IP phones as head office extensions, without installing extra KX-NS300 units or special routers at remote sites. In other words, migration to an IP network enables installation costs to be saved.
Saving Running Costs
By using IP phones as extensions, you don't need to change the settings at the PBX each time you change your office layout, as is normally required. Simply move the phone, and then connect it to the LAN for quick and easy use.
Using Existing Resources
Existing analogue PTs and digital PTs from Panasonic can continue to be used, enabling a system to be replaced at a low cost without wasting resources