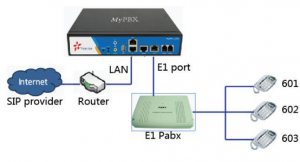 MyPBX U300 boasts an embedded PRI (E1/T1/J1) port with up to 30 lines, 2 FXS ports, 300 users, and 50 concurrent calls in the one compact system, providing higher density trunking for offices using E1 PRI signaling. It could be used as a gateway to legacy PBX systems in applications.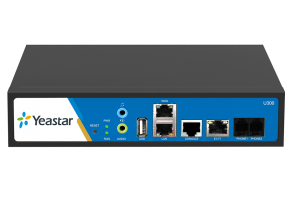 MyPBX U300 is unique in MyPBX family. With fixed telephony interfaces, U300 provides higher density trunking for offices using E1 PRI signaling.
One embedded E1/T1/PRI port
Two fixed FXS ports
Audio in/out interfaces
1 U half-width
MyPBX is a powerful all-in-one system that delivers enterprise-grade functionalities and features to SMBs. On purchasing the unit, you will have all the features at hand without extra cost.
Support 300 users and 50 simultaneous calls
Basic call handling features
Advanced IP-PBX features
No licensing fees for full capacity
You can manage your phone system from any web browser using an intuitive and user-friendly Web interface. It's easy to set up the system, add users, and configure the settings. Check a few boxes, choose from the dropdown list, and fill in text fields; you will know what to do when you see it.
Plug and play set-up
Configuration templates for IP phone batch editing
System prompts: Afrikaans, American English, Australian English, British English, Arabic, Chinese, Danish, Dutch, Finnish, French, Canadian French, German, Greek, Hebrew, Hungarian, Italian, Korean, Norwegian, Persian, Polish, Portuguese, Brazilian Portuguese, Russian, Spanish, Latin American Spanish, Mexican Spanish, Swedish, Thai, Turkish
Web GUI: Albanian, Chinese Simplified, Chinese traditional, Croatia, Dutch, German, English, French, Hebrew, Italian, Korean, Persian, Polish, Portuguese, Romanian, Russian, Spanish, Thai, Turkish
We not only care about your telephone system but also care about energy saving. MyPBX uses less power compared with legacy systems and IP-PBX running on rack servers. With less power consumed, it also minimizes the power expense and makes your office green.
Embedded system with low power consumption
Green and environmental protective
Excellent Interoperability:
MyPBX has been used and tested with a wide range of PBX, VoIP gateways, IP phones and ITSP. Customers have the freedom to choose from different vendors and service providers that fit their needs and enjoy the guaranteed compatibility.
Support IP phones from Cisco, Yealink, Polycom, Panasonic, snom, Aastra, Tiptel, and more
Compatible with Asterisk, Elastix server, Trixbox, FreePBX, 3CX, and more
Certified with ITSP around the globe