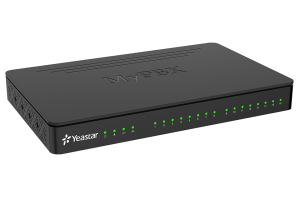 The MYPBX Standard is a standalone embedded hybrid PBX specially designed for small businesses and offices up to 100 users which offers the flexibility of integration of ISDN, PSTN lines, and VoIP/GSM/UMTS trunks. In this way, the company's communication costs would be greatly reduced by taking advantage of the latest VoIP technology while the traditional reliability is guaranteed.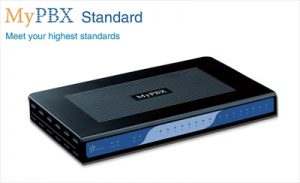 MyPBX is a powerful all-in-one system that delivers enterprise-grade functionalities and features to SMBs. On purchasing the unit, you will have all the features at hand without extra cost.
• Small and simple device for less than 32 users
• Basic call handling features
• Advanced IP-PBX features
• No licensing fees for full capacity
With module-based MyPBX, you can have flexible telephony interfaces combination. You might need FXS module to connect analog phones or fax machines; and you can decide what physical trunks you need in your system.
• Flexible modular design
• FXS module for analog phones or fax machines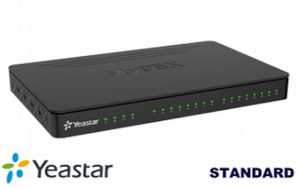 • PSTN, BRI, GSM, CDMA, and UMTS connectivity
You can manage your phone system from any web browser using an intuitive and user-friendly Web interface. It's easy to set up the system, add users, and configure the settings. Check a few boxes, choose from the dropdown list, and fill in text fields; you will know what to do when you see it.
• Plug and play set-up
• Configuration templates for IP phone batch editing.
• Users: 100
• Concurrent Calls: 25
• Voicemail: 3000min
• Analog Ports (Max): 16
• GSM Ports (Max): 8
• BRI Ports (Max): 8
• LAN: 1 (10/100Mbps)
• WAN: 1 (10/100Mbps)
• Protocol: SIP(RFC3261), IAX2
• Transport Protocol: UDP,TCP,TLS,SRTP
• Codec: G.711, GSM, SPEEX, G.722, G.726, ADPCM, G.729 A, H261, H263, H263p, H264, MPEG4.
• DTMF: Inband, RFC2833, SIP INFO
• Echo Cancellation: Supported
• LED: Red for FXO/GSM/UMTS, Orange for BRI, Green for FXS
• Network: Static IP, PPPoE, DHCP, Firewall, VLAN, DDNS, QoS, DHCP Server, OpenVPN
• Power: AC 100-240V (DC 12V 5A)