AVAYA Aura Call Center Elite:
AVAYA Aura Call Center Elite is reducing Mounting pressures in today's marketplace — increased competition, squeezed budgets, and high customer expectations for service — have presented challenges for organizations of all sizes. With the competition tougher than ever and limited organizational resources, it is almost impossible not to feel like you are constantly playing catch-up. To succeed, organizations must find ways to overcome these challenges:
• Dealing with fast changing business cycles and fiercer competitive landscapes
• Reducing costs permanently so you are using fewer resources
• Driving efficiencies throughout your business employing smaller teams
• Differentiating your services from that of provided by your competitors to continually grow the business
• Gaining competitive advantage as price to value becomes a priority
Getting ahead of rapidly evolving customer expectations means you must deliver value and provide a differentiated customer experience accomplished in a way that optimizes resources and expertise across the business, while lowering operating expenses.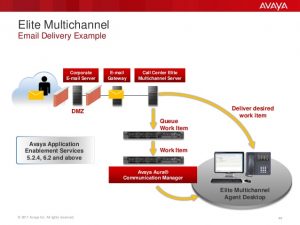 Faced with these service imperatives many organizations begin searching for solutions and technologies that can help them achieve efficiencies and provide a high degree of functionality, while still being easy to implement and maintain. They start by looking for tested and proven solutions that can help make the
difference in their customers' experiences. Avaya Aura Call Center Elite (CC Elite) solution is proven technology that helps businesses to meet these objectives. From intelligent routing to comprehensive analytics, AVAYA Aura Call Center Elite solutions enable you to provide customer service sophistication and differentiation, through an efficient deployment model.
The key to improving your customer experience: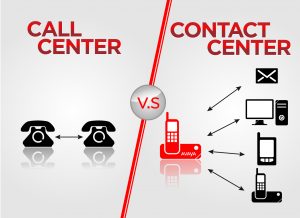 In good times and even in the midst of uncertainty, managing the customer experience is critical for long term business stability and even for the continued existence of your organization.
AVAYA Aura Call Center Elite solutions enable a reliable and integrated omni channel contact center and contribute to rich and compelling customer experiences. These solutions are designed for organizations who are seeking ways to achieve operational efficiency, increase revenue and improve customer satisfaction and retention.
The AVAYA Aura Call Center Elite solution offers options for contact handling so your customers are treated in an efficient manner, enabling agents to more effectively respond to their needs. Intelligent routing of contacts — getting the right agent at the right time — is a proven key driver of customer satisfaction. An added benefit — it can help you reduce costs while delivering greater business value.
Agent client applications enable you to meet your desktop strategy, operating system preference, and contact center approach whether the agent is working at headquarters, in a local branch, or in a home office.
A New Era in Contact Centers:
Avaya Aura Call Center Elite is a full-featured contact center solution with applications for handling inbound and outbound contacts across multiple channels and providing integrated real-time and historical reporting insights.
Avaya Aura Call Center Elite runs on our market leading Avaya Aura Call Center Elite Communication Manager and can easily be configured to include non-voice contacts providing robust multi channel routing capabilities for today's contact centers, and manages the collection, queuing, and delivery of voice and non-voice work items, such as e-mail and text or web chat sessions, to an appropriately skilled agent. The powerful routing algorithms that reside in Avaya Aura Call Center- Elite software determine the right resource for the right contact.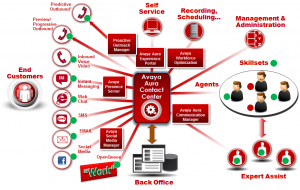 The AVAYA Aura Call Center Elite omnichannel solution is modular, providing the flexibility organizations rely on as they grow and evolve, integrating seamlessly with Avaya Experience Portal for selfservice options and with Avaya Call
Management System (CMS) for end to end reporting and customization. Avaya offers solutions that will evolve your customer service operation to meet the changing needs of today's consumers.
Regardless of whether the customer prefers speaking on a telephone, sending e-mails, texting on a smart phone, or chatting over the internet, AVAYA Aura Call Center Elite omni channel capabilities provide a universal work queue for all supported channels, leveraging various Avaya patented Automatic Call Distributor (ACD) distribution algorithms and predictive technology. Contacts are placed in a single queue and then routed to an agent with relevant tools, skills, and knowledge to handle the request.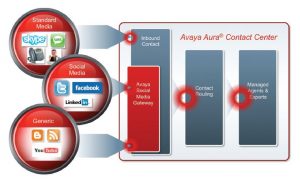 Easy to implement and simple to use, the AVAYA Aura Call Center Elite omni channel solution also delivers:
• Out-of-the-box desktop applications for agents and supervisors
• Framework applications: intelligent routing, interaction data and centralized configuration
• Integrated outbound preview and progressive dialing, automated or agent-initiated
• Powerful application development tools for customization and integration
• Simple and fast wizards for desktop screen pops and routing rules
Key capabilities:
• The right resource at the right time
• Optimal performance management
• Effective Agent applications
• Proactive customer engagement.
• Simple wizards facilitate ease of use
• Enhance customer experience through advanced treatments
• Expand agent knowledge with customer history
• Pre-built Microsoft Dynamics CRM Connector
• Desktop Wallboard application
• Chat canned messages
• Keyboard based routing
• Avaya BreezeTM integration
• Avaya Experience Portal integration
• Avaya Aura Call Center Elite Workforce Optimization (WFO) integration