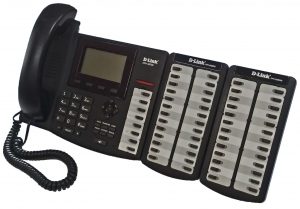 The DSS KEY Dlink DPH-400EDM Expansion Module Dubai designed for D-link DPH-400SE and 150SE F3 Series IP Phones. It is a perfect solution for small businesses wanting to shorten incoming call handling by rapidly directing calls to the desired party.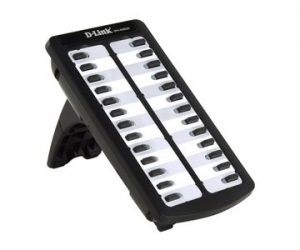 The related console easily attaches to Dlink DPH-400SE Series IP Phone Dubai, providing 26 programmable speed-dials or direct station select keys, each helpful the line's status (idle, ringing, busy, or null) via the BLF. Incoming calls can directly be transferred to the proper location with the push of a key assigned to the extension.
The modular design of the Dlink DPH-400EDM Expansion Module Dubai allows up to 5 attendant consoles to be deployed, for a total of 130 keys, offering an affordable solution that increases with the growth of your voice network. Installation and setup is just a matter of attaching the complete bracket and cable to the attendant console, EDM uses external power supply.
Dlink DPH-400EDM Expansion Module Features:
Support DTMF
Support BLF List Key
Support Speed Dial,MWI,Call park
Support DSS keys defined as multi-line
with screen display, or used as SIP line keys
Support Key event(Auto Redial On, Auto
Redial Off,Call Back,Call
Forward,DND,Flash,
Headset,History,Hot
Desking,Hold,Join,Lock,
Memo,MWI,Phonebook,Pickup,Prefix,Redial,Release)
Support Config the URL of remote phonebook
Support Dual color Led indicator(Red+Green)
26 Dss Keys
Support Max.5 panels connection(130 Dss)
Power saving