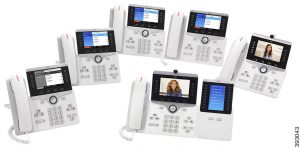 Cisco IP Phone 8800 Series
The Cisco IP Phone 8800 Series is a great fit for businesses of all sizes seeking secure, high-quality, full-featured VoIP. Select models provide affordable entry to HD video and support for highly-active, in-campus mobile workers. This advanced series provides flexible deployment options: on premises, cloud and Cisco pre-approved third-party UCaaS providers.
Cisco IP Phones 8800 for a variety of needs
The Cisco IP Phone 8800 Series is ideal for knowledge workers, administrative and executive staff. Cisco IP Phone 8800 Series works well in open work spaces, large conference rooms and executive offices and with actively mobile workers within a campus. Choice of two user experiences add flexibility.
Cisco IP Phone 8800 Series Select models support 720p HD desktop video collaboration, telephony feature integration with personal mobile devices, optional key expansion modules and wired/wireless expansion microphones for conference rooms. See the model comparison.
Cisco IP Phones 8800
Simple, cost-effective administration
Flexible deployment options help you cut costs and maximize your investment. Remote workers get single sign-on access with Cisco Expressway. Latest encryption secures communications. Cisco Energy Wise helps reduce costs in off-work hours.
With Cisco call manager express, you can easily manage Cisco ip phones 8800 series phones. Variety of models available based on Reception Models, Managerial models, conference phones and related.
Some models of Cisco IP phone 8800 series have wifi built in and others are wall mountable which provide ease of use.
Some models of Cisco IP Phone 8800 series provide Bluetooth and Dect functionality.The phone offers Bluetooth Enhanced Data Rate (EDR) Class 1 technology (up to 66-ft [20m] range).Phone Book Access Profile (PBAP) is supported for phone book object exchange between devices
Most models of Cisco IP Phone 8800 series provide gigabit ethernet switch to which PC can be connected. VLAN configuration can be done as per the requirement.
Most models of Cisco IP Phone 8800 series provide multiple programmable keys that can be programmed for speed dialing, BLF and many more other options supported by Cisco Call manager. The phone has the following keys: ◦ Line keys ◦ Soft keys ◦ Back and release keys ◦ Four-way navigation and select keys ◦ Hold/Resume, Transfer, and Conference keys ◦ Messaging, Application, and Directory keys ◦ Standard keypad ◦ Volume-control toggle key ◦ Speakerphone, Headset, and Mute keys
The display is easy-to-view and the buttons and keys are easy-to-use. The two-position foot stand supports viewing angles of 35 and 50 degrees; you can remove the foot stand for wall mounting, with mounting holes located on the base of the phone.
IEEE Power over Ethernet class 4. The phone is compatible with IEEE 802.3af, 802.3at and UPOE switch blades and supports both Cisco Discovery Protocol and Link Layer Discovery Protocol – Power over Ethernet (LLDP-PoE).
Cisco ip phone 8800 Key Features are:
● + Dialing ● Abbreviated dialing ● Adjustable ring tones and volume levels ● Adjustable display brightness ● Agent greeting ● Application launch pad ● Auto-answer ● Auto-detection of headset ● cBarge ● Busy Lamp Field (BLF) ● BLF Pickup ● BLF speed dial ● Callback ● Call forward ● Call forward notification ● Call filter ● Call history lists ● Call park ● Call pickup ● Call timer ● Call waiting ● Call chaperone ● Caller ID ● Corporate directory ● Conference, including traditional Join feature ● Cross Cluster Extension Mobility (EMCC) ● Direct transfer ● Extension mobility ● Fast-dial service ● Forced access codes and client matter codes ● Group call pickup ● Hold ● Intercom ● Immediate divertMalicious-caller ID ● Message-waiting indicator (MWI) ● Meet-me conference ● Mobility ● Music on hold (MoH) ● Mute ● Network profiles (automatic) ● On- and off-network distinctive ringing ● Personal directory ● PickUp ● Predialing before sending ● Privacy ● Private Line Automated Ringdown (PLAR) ● Redial ● Ring tone per line appearance ● Service URL ● Shared line ● Silent monitoring and recording ● Speed dial ● Time and date display ● Transfer
Audio path moving sends audio through the phone for a mobile device-connected call ● Call-history synchronization allows you to view placed and missed calls of your mobile device from the 8865 ● Contact synchronization allows you to synchronize the contact objects from your mobile device to your 8865.
Cisco ip phone 8800 series Network Features
Session Initiation Protocol (SIP) for signaling ● Session Description Protocol (SDP) ● IPv4 and IPv6 ● User Datagram Protocol (UDP) (used only for Real-Time Transport Protocol [RTP] streams) ● Dynamic Host Configuration Protocol (DHCP) client or static configuration ● Gratuitous Address Resolution Protocol (GARP) ● Domain Name System (DNS) ● Trivial File Transfer Protocol (TFTP) ● Secure HTTP (HTTPS) ● VLAN ● Real-Time Transport Protocol (RTP) ● Real-Time Control Protocol (RTCP) ● Cisco Peer-to-Peer Distribution Protocol (PPDP) ● Cisco Discovery Protocol ● LLDP (including LLDPMedia Endpoint Discovery [LLDP-MED]) ● Switch speed auto-negotiation
Cisco IP Phones 8800 Models
Cisco IP Phones 8800 series has different models. Each model has own specs and can be used as per requirement.