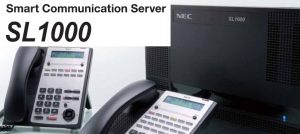 NEC PBX SL1000 Smart Communication Server is an IP enabled intelligent hybrid system. It is designed to accommodate small and medium enterprise (SME). It is the most cost effective and affordable for expanding small and medium businesses. The basic system is equipped with 4 trunk lines 8 extensions and expandable up to 48 trunk lines 128 extensions.
The hardware concept of the NEC SL1000 revolves around main system and expansion system chassis (KSU). For NEC SL1000 we can have up to 4 systems chassis (1 main + 3 expansion).
This item is the main system chassis. All access for loading of licenses, programming of the system is done in the unit. Each system chassis can house another additional 3 cards.
Power Supply (MPS6930)
CPU (IP4WW-CPU-A1)
Motherboard (IP4WW-408M-A1)
AC Cable
Various other components for NEC SL1000
NEC PBX SL1000 Expansion Interface – IP4WW-EXIFB-C1
NEC PBX SL1000 Auto Attendant – IP4WW-CFVRS-C1
NEC PBX SL1000 Voicemail – IP4WW-CFVMS-C1
NEC PBX SL1000 Trunk Card / Station Interface – IP4WW-408E-A1
NEC PBX SL1000 Station Card W/O Trunk – IP4WW-008E-A1
NEC PBX SL1000 Expansion card for mounting 2BRIDB board IP4WW-000E-A1
NEC SL1000 16-Channel VoIP Daughter Board – IP4WW-VOIPDB-C1
NEC SL1000 60-Button DSS Console – IP4WW-60 DSS-A
NEC SL1000 12 Button Digital Telephone – IP4WW-12TXH-A TEL
NEC SL1000 24 Button IP Multi line Telephone – IP4WW-24TIXH-C-TEL
NEC SL1000 24 Button Digital Telephone -IP4WW-24TXH-A TEL
NEC SL1000 KSU Expansion Unit – IP4WW-1632ME-A
NEC SL1000 Expansion Memory Card – IP4EU-MEMDB-1
The NEC PBX SL1000 Is A Budget-Friendly PABX With Great Features
Nec's SL1000 is an easy way to record calls on your computer. It also includes a built in speakerphone for hands free operation.
Call Recording | NEC PBX SL1000
The NEC PBX SL1000 records up to 30 minutes of audio with its built in microphone. You can then save the recorded file as an MP3, WAV, or OGG format. This allows you to listen back to the call later. If you need to make changes to the recording, simply click the Edit button and start again.
Voicemail | NEC PBX SL1000
The NEC PBX SL1000 also includes a voice mail system that lets you record messages for yourself or others. It will automatically play them when you receive calls. You can even set the SL1000 to answer the phone automatically so you won't miss any important messages.
Caller ID | NEC PBX SL1000
The NEC PBX SL1000 also allows you to block unwanted calls by using caller ID. This feature works with both incoming and outgoing calls. If you need to take a break from work, you can use the call waiting feature to let other people know you're busy.
Auto Attendant
You can set up an auto attendant message that will greet callers when they reach the system. It's easy to customize the greeting so that it matches the business's branding.
Conference Calling
If you need to conduct conference calls, the NEC PBX SL1000 allows you to do so easily. You can add as many participants as needed, and each participant can join the call at any point during the meeting.