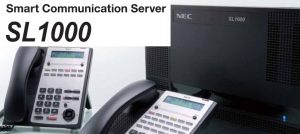 NEC SL1000 Smart Communication Server is an IP enabled intelligent hybrid system. It is designed to accommodate small and medium enterprise (SME). It is the most cost effective and affordable for expanding small and medium businesses. The basic system is equipped with 4 trunk lines 8 extensions and expandable up to 48 trunk lines 128 extensions.
The hardware concept of the NEC SL1000 revolves around main system and expansion system chassis (KSU). For NEC SL1000 we can have up to 4 systems chassis (1 main + 3 expansion).
This item is the main system chassis. All access for loading of licenses, programming of the system is done in the unit. Each system chassis can house another additional 3 cards.
Power Supply (MPS6930)
CPU (IP4WW-CPU-A1)
Motherboard (IP4WW-408M-A1)
AC Cable
Various other components for NEC SL1000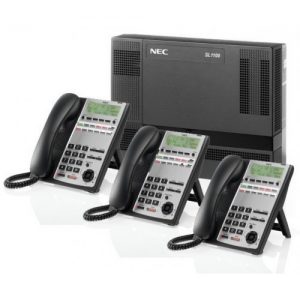 NEC SL1000 Expansion Interface – IP4WW-EXIFB-C1
NEC SL1000 Auto Attendant – IP4WW-CFVRS-C1
NEC SL1000 Voicemail – IP4WW-CFVMS-C1
NEC SL1000 Trunk Card / Station Interface – IP4WW-408E-A1
NEC SL1000 Station Card W/O Trunk – IP4WW-008E-A1
NEC SL1000 Expansion card for mounting 2BRIDB board IP4WW-000E-A1
NEC SL1000 16-Channel VoIP Daughter Board – IP4WW-VOIPDB-C1
NEC SL1000 60-Button DSS Console – IP4WW-60 DSS-A
NEC SL1000 12 Button Digital Telephone – IP4WW-12TXH-A TEL
NEC SL1000 24 Button IP Multi line Telephone – IP4WW-24TIXH-C-TEL
NEC SL1000 24 Button Digital Telephone -IP4WW-24TXH-A TEL
NEC SL1000 KSU Expansion Unit – IP4WW-1632ME-A
NEC SL1000 Expansion Memory Card – IP4EU-MEMDB-1