Grandstream UCM6204
Grandstream UCM6204 is a Powerful SMB PBX designed for small business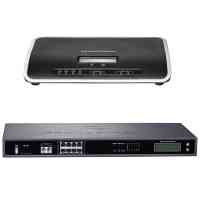 .
Designed to provide a centralized solution for the communication needs of businesses, the Grandstream UCM6200 series IP PBX appliance UCM6204 combines enterprise-grade voice, video, data, and mobility features in an easy-to-manage solution.
Grandstream UCM6204 IP PBX series allows businesses to unify multiple communication technologies, such as voice, video calling, video conferencing, video surveillance, data tools, mobility options and facility access management onto one common network that can be managed and/or accessed remotely. The secure and reliable grandstream UCM6200 series delivers enterprise-grade features without any licensing fees, costs-per-feature or recurring fees.
UCM6204 is small non-rackmount desktop Device which is quite easy to manage by Non technical Staff. Small LCD display shows minimal configuration which assist for configuration.
The same industry-leading platform that we designed for the grandstream UCM6100 series, which continues to be enhanced month by month with more and more features and functionalities, will be extended to the grandstream UCM6200 series.
Looking for a more powerful upgrade? We have redesigned our 8 FXO port model, the grandstream UCM6208, to offer the ability to support more users and more concurrent calls, as it supports up to 800 users and up to 100 concurrent calls.
Grandstream UCM6204 Provides more easy Graphical user interface to manage for users. It can be accessed over web through IP addresses. Call recordings, Call detailed records can be easily downloaded from GUI interface.
Grandstream provides emergency call service also.Customer can have there own phonebooks as per there requirments.
Grandstream UCM6204 provides voicemail, Interactive Voice Response(IVR) greetings support so any company can have there own greetings message to greet incoming callers.
An attractive dashboard provides basic information about CPU/RAM utilization. You can connect external USB HDD to grandstream ucm6204 ip pbx for external call recordings.
UCM6204 provides Zero touch configuration. All the grandstream phones are automatically detected in system which can be seen from Graphical interface. All phones can easily be managed from zero touch configuration.
Extension configurations can be pushed directly from UCM6204 graphical interface without having accessing phones interface. Different hunt groups can be created as per the requirement of company.
Queues can be used also as per call centre requirement of company. Companies can upload there custom Music on Hold into system to have corporate look for there company.
Call records/Call Logs can be saved to NAS drive also.
Grandstream UCM6204 can be intergrated with CRM Solutions also to provide more customer insights as per customer requirements. API's are available to achieve desired functionality.
Grandstream UCM6200 Series supports other sip phone models also apart from grandstream phones. We can assist Companies to configure Cisco IP Phones SIP Based, Yealink IP Phones, Dlink IP Phones and other Sip phones to be configured with Grandstream UCM6204 IP PBX.
Grandstream UCM6204 Features
Granstdream UCM6202 and UCM6204 support up to 500 users and 50/75 concurrent calls, UCM6208 supports up to 800 users and 100 concurrent calls
Auto Discovery and Zero Configuration of Grandstream SIP endpoints
Integrated 2/4/8 PSTN trunk FXO ports, 2 analog telephone FXS ports with lifeline capability and up to 50 SIP trunk accounts
Gigabit network ports with Integrates PoE, USB, SD card
Supports up to a 5-level IVR (Interactive Voice Response)
Built-in call recordings server; recordings accessible via web user interface
Built-in Call Detail Records (CDR) for tracking phone usage by line, date, etc.
Supports multi-language auto-attendant and call queue to efficiently handle incoming calls
Strongest possible security protection using SRTP, TLS and HTTPS encryption
Supports any SIP video endpoint that uses the H.264, H.263 or H.263+ codecs
Grandstream UCM6204 Supported Phones
Grandstream IP phones are designed for users who are often on the phone and need access to advanced features, line support and usability options. Get more done, handle more calls, and keep in touch with more people using Grandstream's GXP2100 series.
Grandstream UCM6204 and UCM6202 Supports most of the Grandstream IP Phones. Phones Mostly used with UCM6204 are:
Grandstream GXP1625
Grandstream GXP1620
Grandstream GXP1628
Grandstream GXP1630
Grandstream GXP2140
Grandstream GXP2160
Grandstream GXP2170
Grandstream GXP1610
Grandstream GXP1615
Grandstream GXP1760
Grandstream GXP1780
Grandstream GXP1782
Grandstream GXP2135
Other Vendors Supported Phones
Grandstream UCM6204 Supports Other Vendors SIP Phones also. Supported Models are :
Dlink DPH150
Dlink DPH200
Yealink SIP-T19
Yealink SIP-T21
Yealink SIP-T23
Yealink SIP-T23G
Yealink SIP-T27G
Yealink SIP-T29G
Yealink SIP-T30
Yealink SIP-T30P
Yealink SIP-T31
Yealink SIP-T31P
Yealink SIP-T31G
Yealink SIP-T33P
Yealink SIP-T33G
Yealink SIP-T40P
Yealink SIP-T40G
Yealink SIP-T41S
Yealink SIP-T42S
Yealink SIP-T46S
Yealink SIP-T48S
Yealink SIP-T53
Yealink SIP-T53W
Yealink SIP-T54W
Yealink SIP-T56A
Yealink SIP-T57W
Yealink SIP-T58A
Yealink SIP-T58A with Camera
Yealink VP59
Yealink CP920
Yealink CP930W-Base
Yealink CP960
Yealink CP960-WirelessMic
Cisco IP Phone 8811
Cisco IP Phone 8831
Cisco IP Phone 8832
Cisco IP Phone 8841
Cisco IP Phone 8845
Cisco IP Phone 8851
Cisco IP Phone 8861
Cisco IP Phone 8865