Grandstream PBX System:
Grandstream offer innovative IP PBX Telephone System with enterprise grade productivity features. Grandstream PBX available in different models and satisfy the business from 2 user to 2000 users. A large variety of desk phones available with Grandstream to choose for every customer needs. Grandstream desk phone features like extension dialing, conference calling, company directory, hold and call transfer. If your organization wants stylish desk phones with crystal-clear sound, don't worry, Grandstream has them. With Grandstream IP Phone PBX System workers can have enterprise-grade communication capabilities wherever they're going, including video conferencing with room-based systems, peer-to-peer video, web conference, calendar access, CRM integration, instant messaging and presence.Organizations can keep pace with the latest UC and phone features with Grandstream PBX System. A Grandstream phone system can help you create most efficient mobile and remote workforce easily and affordable. The same time Grandstream Phone System increase communication capacity and capabilities , when your business grows. Grandstream communication products are the most effective tool for gain business and customer care efficiency.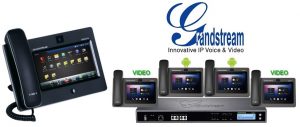 SIP trunking is used to connect an organization's headquarters, branch offices and data center to its communication service provider. Grandstream habing sip trunking feature without any additional cost. SIP trunks replace expencive branch office or head office calls by integrating both the offices together. Moreover it enabling organizations to embrace UC more easily, make communications more reliable and make a virtual call center. SIP trunking can lead to cost savings-up to 40 % of your respective voice expenditure by one estimate.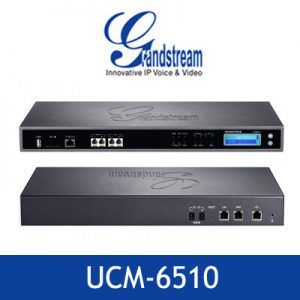 Designed to bring leading edge voice, video, data, and mobility features to medium and large businesses and small to medium enterprises. The UCM6510 IP PBX appliance creates a customizable, scalable and complete network solution. Powered by an advanced hardware and software functionalities, this converged voice, video, data, fax, security surveillance and mobility solution anchors any communications network.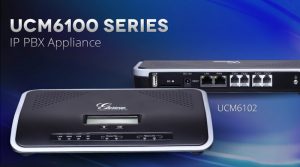 The UCM6100 series is an IP PBX appliance designed to bring enterprise-grade Unified Communications and security protection to small and medium businesses in an easy-to-manage fashion. Powered by an advanced hardware platform and software functionalities, the UCM6100 series supports up to 500 users and offers a turnkey solution for converged voice, video, data, fax, security surveillance, and mobility applications without any extra license fees or recurring costs.